Liftmaster - Genie Openers
Back To Our Services
When it comes to garage door openers, two big names surface, and these are LiftMaster and Genie. These brands have been in the industry for decades, and they are able to maintain an exceptional record because of their products' quality and performance. LiftMaster is the brand manufactured by Chamberlain, a company known to have revolutionized the garage door opener industry. Their innovations are what set them apart. Their residential garage door openers are equipped with the trademark The Protective System, their main safety feature. This projects a light beam across the door's opening so that if something interrupts it as it closes, the system automatically reverses the door before any contact.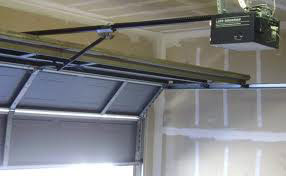 LiftMaster Features
LiftMaster also has products that comply with UL standards. Photo sensors and sensing edges that detect and reverse doors if something or someone enters the door's path. The company revolutionized the garage door opener industry with drive belt molded with flexible steel cords and made of polyurethane. They also introduced MVIS, which is responsible for a smooth running garage door, as well as Battery Backup, that allows doors to operate even when the power is out. LiftMaster products also feature upgraded security. They take pride in their advanced safety features and rolling code technology. Recent models are even equipped with what the brand calls 2.0 technology. This further enhances the openers' security and radio performance. When you have problems with the remote control or keyless entry system, LiftMaster makes it easy to find replacement.
Genie Openers
Many customers use Genie garage door openers because of its dependability and nationwide service. The brand was manufactured in 1954 by the Alliance Manufacturing Company until the Overhead Door Corporation bought it in 1994. Genie is the first mass-produced residential garage door opener controlled by radio. They are the industry leader in design and safety. It now manufactures remote controlled garage door openers and various accessories for multiple applications. It boasts advanced features such as Intellicode security system, 140-volt DC motor, and Safe-T-Beam. Genie has professional or dealer installed models. It also offers DIY or retail products and accessories. You can have add-ons such as extension kits, additional wall controls, wireless keypads, universal keyless entry, and maintenance items that extend the life of your opener.
Common problems we fix in Genie openers include blinking Safe-T-Beams, reversing or closing opener issues. We also fix remote control problems for both brands. Our "Garage Door Repair Euless" can recommend the right solutions for all Genie garage door openers. We program Genie remote controls, remove Safe-T-Beam, and replace bulbs. We also offer LiftMaster servicing. When you need assistance regarding beeping openers, programming remote controls, or doors that do not move, we are here to offer assistance. Installing and replacing both LiftMaster and Genie openers is one of our key specialties. We provide different models of these top brands and recommend regular maintenance of the opener and the entire door system.